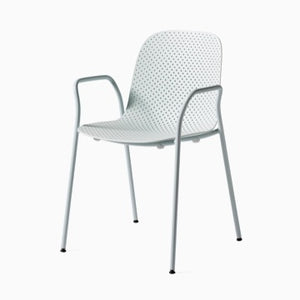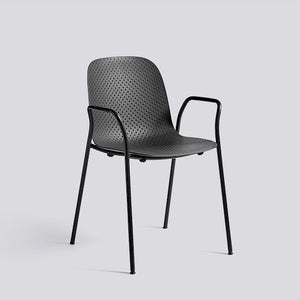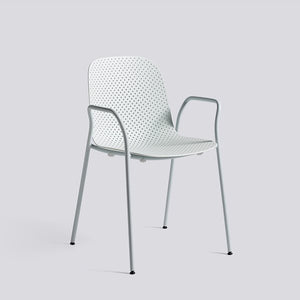 HAY's 13Eighty chair designed by Dutch designers Scholten & Baijings is aptly named after the number of tiny holes in the moulded polypropylene shell. These perforations create a characteristic aesthetic, where transparency and a play of light and shadows add to the chair's expression, while the variations in the sizes of the holes bring a sense of movement to the visual appearance. They also have a functional use in draining rainwater off when the chairs are used outdoors. Available with or without armrests in a stackable design that features steel legs with a weather-resistant coating to make it suitable for outdoor use. 
Select finishes on shortened leadtime, or contact us for additional information. 

Over the past 10 years, the couple has produced, a portfolio of exquisitely crafted, instantly covetable objects — soft, vividly striped merino pillows and throws, delicate glass vessels, gridded silk scarves. Their work is defined by an eye for graphics and an impeccable sense of color.

Inspiration
Hee Welling x HAY Designer talks. In conversation with Hee Welling
Hee Welling x HAY Designer talks. In conversation with Hee Welling
Hee Welling x HAY Designer talks. In conversation with Hee Welling
Hee Welling x HAY Designer talks. In conversation with Hee Welling