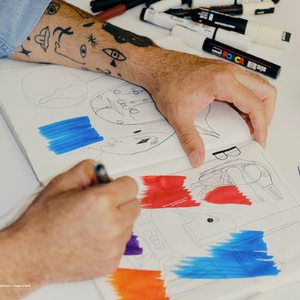 SOLD OUT. Additional pieces arriving February 2024. Don't miss out, pre order now >
Influenced by a visit made to his studio in the heart of Valencia, where he was inspired to take a brush and a set of paints to the original JH5 model from 2015, we have worked with Hayon to find a design that encapsulates this very moment while embodying his love of bold colours and abstract shapes, so that you may have your very own piece of his artwork.
Diverting from the original, understated aesthetic and inching closer to the extroverted nature of the lamp's designer, the detailing of your new Formakami Limited Edition adds to the ivory white paper and black stained oak accents to create a unique piece, imbued with personality and an air of spontaneity.
Over the years, we have watched Hayon grow and develop from working as a product designer to shifting his focus and branching out to more artistic endeavours. A representation of his evolution as a creator your new
Formakami Limited Edition is a fusion of two intricate and visually expressive worlds. The Formakami Limited Edition will be offered exclusively for sale at Cult Design with each piece displaying it's own unique number stamp.
Ø: 70cm/27.6in, H: 67cm/26.4in
Ivory white paper, black stained oak, 4 meter black fabric cord
Spanish artist-designer Jaime Hayón was born in Madrid in 1974. As a teenager, he submerged himself in skateboard culture and graffiti art, the foundation of the detailed, bold-yet-whimsical imagery so imminent in his work today. After studying industrial design in Madrid and Paris he joined Fabrica in 1997, the Benetton-funded design and communication academy, working closely with the legendary image-maker and agitator Oliverio Toscani. In a short time he was promoted from student to head of their Design Department, where he oversaw projects ranging from shop, restaurant and exhibition conception and design to graphics. Eight years later, Jaime broke out on his own, first with collections of designer toys, ceramics and furniture, followed by interior design and installation. These collections put Jaime at the forefront a new wave of creators that blurred the lines between art, decoration and design and a renaissance in finely-crafted, intricate objects within the context of contemporary design culture.

Inspiration
Hee Welling x HAY Designer talks. In conversation with Hee Welling
Hee Welling x HAY Designer talks. In conversation with Hee Welling
Hee Welling x HAY Designer talks. In conversation with Hee Welling
Hee Welling x HAY Designer talks. In conversation with Hee Welling