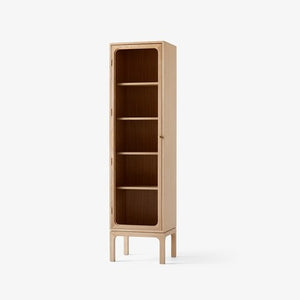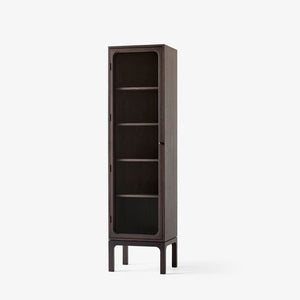 The latest collaboration between &Tradition and Copenhagen-based architecture and design studio, Space Copenhagen, Trace, is a display cabinet made from an oak frame and glass paneled doors - a classic silhouette with contemporary expression provides storage and an elegant frame to display cherished items.
Available in two finishes oak with brass details, and dark stained oak with bronzed brass details, the subtle addition of brass works complements the refined craftsmanship and elegance of the cabinet. Trace is available in both single and double-door options, making it versatile enough to use on its own or in multiples to create a wall for storage and display.
Crafted in Portugal using traditional woodworking practices, Trace is made of materials sourced from well-managed, FSC®-certified forests and other controlled sources. The simplicity and versatility make it the perfect canvas to display a curated collection of books, glassware, or objects in any residential, commercial, or hospitality space.
H: 192cm/76in, W: 50cm/20in, D: 40cm/16in
Solid oak and oak veneer, glass paneled doors
Oak: Brass hinges, Brass knob
Stained oak: Bronzed brass hinges, Bronzed steel knob
Established in 2005 by Signe Bindslev Henriksen and Peter Bundgaard Rützou, Space Copenhagen is a design studio working across multiple disciplines from furniture, lighting and refined objects, to art installations, art direction and interior design for private homes, hotels and restaurants all over the world. 
The ambition is to forge new paths by balancing opposites — classic and modern, industrial and organic, sculptural and minimal, light and shade. Duality and contrast. Curiosity as a fundamental human condition. 
The studio's intuitive approach embodies designs that are distinctively shaped by the given circumstances, functional needs, and a fundamental interest in human behavior. It is a sense of and belief in slow aesthetic that centers quality and longevity. 
Space Copenhagen has created lauded furniture pieces for some of the world's leading manufacturers and continuously substantiates their roster of high-end interiors at an international level, following, among others, their award-winning design for 11 Howard hotel in New York and acclaimed destination restaurants Geranium and Noma in Copenhagen.
Inspiration
Hee Welling x HAY Designer talks. In conversation with Hee Welling
Hee Welling x HAY Designer talks. In conversation with Hee Welling
Hee Welling x HAY Designer talks. In conversation with Hee Welling
Hee Welling x HAY Designer talks. In conversation with Hee Welling