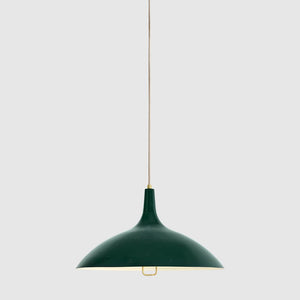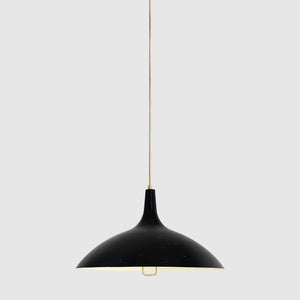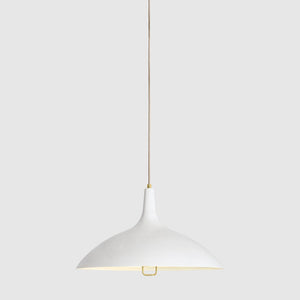 The 1965 Pendant was originally designed by Paavo Tynell in 1947. Like many of his bestknown designs, the pendant was designed for the Finland House in New York - one of the most ambitious and successful projects of all time to showcase Finnish design. Perfecting the techniques of metal finishes, Tynell developed the 1965 Pendant with his exceptional ability to capture and translate a grace and exuberant lightness into his brass creations. Characterized by its triangular perforation pattern, an artistic detail utilised by Tynell in several of his lighting objects, the 1965 Pendant reflects the distinguished craftsmanship of the Finnish designer. With a frosted glass diffuser that softens the light, the pendant contributes to a subtle and tranquil environment.
Select finishes on shortened 2-3 week lead time. Standard lead time is 18-20 weeks. Contact us for more information. 
Paavo Tynell (1890-1973) was an industrial designer, known as the great pioneer of Finnish lighting design and fondly dubbed as "the man who illuminated Finland". Tyne was one of the founders and chief designers of Taito Oy – the first industrial producer of lighting fixtures in Finland. With the innovation of electricity in the beginning of the 20th century, Taito Oy and Tynell expanded the thinking and manufacturing of modern lighting solutions in Europe and abroad. 
Tynell rose to prominence in the 1930s and 40s where he collaborated with some of the most renowned Finnish architects, Alvar Aalto being the most notable one. Working to incorporate artificial lighting into modern environments, Tynell's company Taito Oy produced fixtures for all of Alvar Aalto's major projects including the Paimio Sanatorium and the Viipuri Library. 
Today his lamps and lighting are highly sought after by an international clientele of collectors and prices of his most important pieces have lately soared on auctions.

Inspiration
Hee Welling x HAY Designer talks. In conversation with Hee Welling
Hee Welling x HAY Designer talks. In conversation with Hee Welling
Hee Welling x HAY Designer talks. In conversation with Hee Welling
Hee Welling x HAY Designer talks. In conversation with Hee Welling