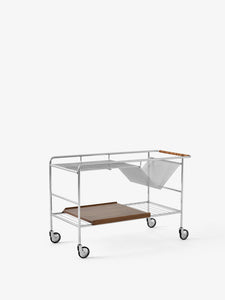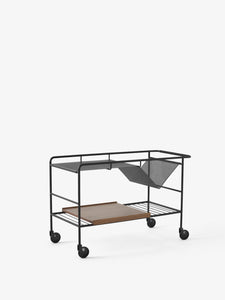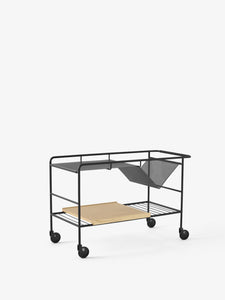 Inspired by the 'creative chaos' of working from home, Note Design Studio decided to create a storage unit that would house their collection of books, magazines, drawings and objects. The result was a sleek trolley with a distinctive V-shaped design built into its surface that allows stacked books to be easily stored and displayed.
H: 59.4cm/23.39in W: 89.9cm/35.39in D: 41.9cm/16.50in
Weight:
Trolley: 8 kg
Tray: 2 kg
Trolley: Leather, steel
Tray: Veneer, solid wood
Production Process: The trolley is made of bent and welded tubes, and the leather cord is carefully webbed around the handle. The wooden tray is made of a veneer plate and milled edges in solid wood
Metal Finishes: Chrome. Black
Wooden Finishes: Lacquered Oak, Lacquered Walnut
Founded in 2008, Note is a Stockholm-based design studio active in the fields of architecture, interiors, products, graphic design and design management. Their completed projects include retail and corporate interiors, as well as furniture and other objects.

Inspiration
Hee Welling x HAY Designer talks. In conversation with Hee Welling
Hee Welling x HAY Designer talks. In conversation with Hee Welling
Hee Welling x HAY Designer talks. In conversation with Hee Welling
Hee Welling x HAY Designer talks. In conversation with Hee Welling