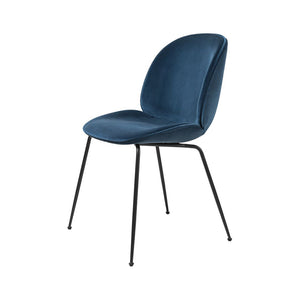 Looking closely at the anatomy of the beetle insect, characterised by its solid outside and soft inside, the front upholstered Beetle Chair possesses all attributes. The front upholstered Beetle Chair holds the same soft core as the fully upholstered version, giving it an outstanding comfort while the contrasting outer in polypropylene plastic functions as a protective shell. The Beetle can exude a personal adornment with an upholstery of your choice. Due to its unique design, the front upholstery can also be changed with time to give the chair a different expression and new life to the interior decoration. GamFratesi has reinterpreted the characteristic elements of the beetles' sections when designing the Beetle Chair: shape, shells, sutures, rigid outside and soft inside. The comfortable yet dynamic design makes the chair suitable for multiple environments whether it is in the home or the workplace.
Available in a range of fabric and leather upholstery options. Contact us for more information. 
Total Dimensions (DxWxH): 58x56x87 cm
Sitting height: 47 cm
Seat width: 49 cm
Seat depth: 42 cm
Seat height: 47 cm
Back height: 43 cm
Base/leg thickness: Ø1,0-1,6 cm
Frame width: 56 cm
Frame depth: 53 cm
Weight (kg): 8.2
Available in a range of fabric and leather upholstery with standard or contrast leather piping. Contact us for more information.

Base in black powdercoat, brass, antique brass and black chrome
GamFratesi is a Copenhagen-based design agency comprising architect Stine Gam (born in Denmark in 1975) and industrial designer Enrico Fratesi (born in Italy in 1978), who met while studying architecture in Italy and founded their design agency GamFratesi Studio in Copenhagen in 2006. Using their dual cultural backgrounds, they fuse classic Danish craft traditions with a timeless Italian intellectual and conceptual approach. Their designs are characterised by an honest, natural expression, and the desire to communicate a story through the use of tradition, innovation and functionality. GamFratesi have received international recognition and they have exhibited work all over the world. For Hay, they have designed the Silhouette Sofa and Tulou Table.
Inspiration
Hee Welling x HAY Designer talks. In conversation with Hee Welling
Hee Welling x HAY Designer talks. In conversation with Hee Welling
Hee Welling x HAY Designer talks. In conversation with Hee Welling
Hee Welling x HAY Designer talks. In conversation with Hee Welling