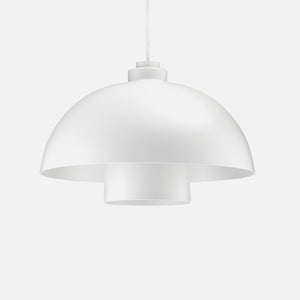 Available from April 2023. Contact us for more information >
Bell is inspired by the legendary architect Carlo Scarpa, who saw great beauty in the art of two elements working together as a whole. The design features an outer dome that sits over an inner cylinder, creating an internal void that hides the light source. Made with spun aluminium, Bell's understated elegance lies in its simple and pure geometry; a versatile light that sets a warmly refined mood in commercial and residential spaces. Bell is provided with a 3m cord and an LED light source rated to 50,000 hours.
A firm believer that every environment is defined by the objects within it, Adam Goodrum designs with the philosophy that an object must therefore justify its existence – through its story and detailing. For this reason, his designs celebrate process and craftsmanship, and accentuate components and joinery to create functional pieces with spirit and personality. In recent years, Goodrum's work has been awarded a host of design accolades including the NGV Rigg Prize, Vogue x Alessi Design Prize, Indesign Luminary Award and the Idea Awards Editor's Medal. He has also been commissioned to design pieces for several global luxury brands including Veuve Clicquot, Alessi and Cappellini.
Inspiration
Hee Welling x HAY Designer talks. In conversation with Hee Welling
Hee Welling x HAY Designer talks. In conversation with Hee Welling
Hee Welling x HAY Designer talks. In conversation with Hee Welling
Hee Welling x HAY Designer talks. In conversation with Hee Welling