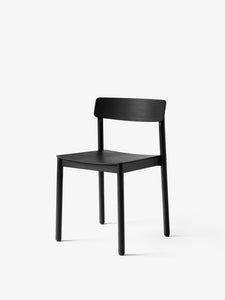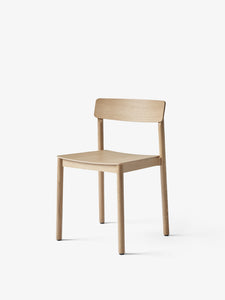 Named after the Betty Nansen theater in Copenhagen, this stackable chair comes in two versions: one with a solid wooden seat, and another with a seat made from exposed webbing crafted from natural linen fibers.
Select finishes on shortened leadtime, or contact us for further information. 

Dimensions
H: 77cm/30.3in, W: 51cm/20.1in, D: 48cm/18.9in
Seating D: 42cm/16.5in, Seat H: 47cm/18.5in
Material
Lacquered solid wood and formpressed veneer
Jakob Thau and Sami Kallio are fascinated by materials and methods. They share a deep affinity for wood and hand craftsmanship, with a firm focus on the components that make up any given design. Together they are revitalising the Nordic narrative by applying classic techniques in new expressions.
Inspiration
Hee Welling x HAY Designer talks. In conversation with Hee Welling
Hee Welling x HAY Designer talks. In conversation with Hee Welling
Hee Welling x HAY Designer talks. In conversation with Hee Welling
Hee Welling x HAY Designer talks. In conversation with Hee Welling