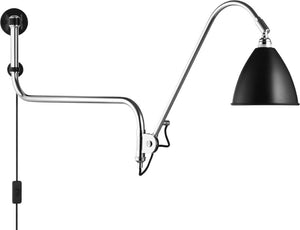 Initially adopted by tailors due to its flexible arm and the possibility to direct the light without making shadows, the Bestlite BL10 Wall Lamp, designed by Robert Dudley Best in 1930, is today highly used as a bedside lamp or as a reading lamp in the living room where this exceptional lamp adds character and intensity.
A feature in Architects Journal lauding Bestlite with the title of the first evidence of Bauhaus in Britain brought the lamp to the attention of the design conscious. Public demand for the Bestlite lamps soon followed and, when Winston Churchill personally chose the Bestlite BL1 Table Lamp for his desk, Bestlite's iconic status was secured.
The Bestlite design stays close to its industrial roots and true to its original design. Bestlite is held in permanent collections at both the Victoria & Albert Museum and the Design Museum in London. Loved by architects, designers and design aficionados throughout its long history, today, Bestlite has become a contemporary classic.
Robert Dudley Best (1892-1984) was heir to the world's largest lighting manufacturing company Best & Lloyd, founded in Birmingham in 1840. Despite the company's proud history of providing traditional lamps to a prestigious clientele, including Titanic and the Orient Express, Dudley Best was interested in a new collection that symbolised the spirit of the new age by appealing to the more avant-garde architects and setting a new agenda for lamp design. 

Inspiration
Hee Welling x HAY Designer talks. In conversation with Hee Welling
Hee Welling x HAY Designer talks. In conversation with Hee Welling
Hee Welling x HAY Designer talks. In conversation with Hee Welling
Hee Welling x HAY Designer talks. In conversation with Hee Welling