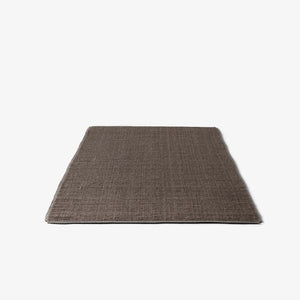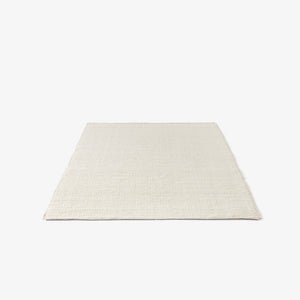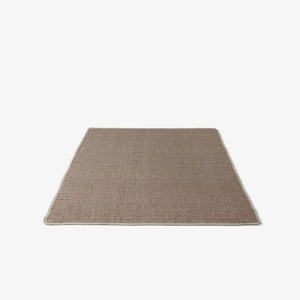 Designed by Space Copenhagen, the intention behind the Collect series is to create pieces that can be added to the home, one by one with intentionality.
The new Collect rugs, crafted from a blend of New Zealand wool and recycled polyester come in three organic hues: Milk, Caramel, and Stone. The muted tones married with the elevated quality of the textile results in rugs that are unobtrusive and visually binding, lending softness and warmth.
The rugs come in sizes 170 x 240 cm and 200 x 300 cm, making them ideal for both medium and large spaces. Each rug is woven in a non-directional square pattern, making them highly versatile, while their neutral aesthetic makes visual space for other furniture and pieces in the room.
The Collect rugs are crafted by skilled artisans in Bikaner, India, with the undyed natural wool woven on a handloom. The work and expertise invested into each rug underscores the artistry of the piece that can be found in both Collect's design as well as the weaving process itself.
H: 170cm/66.9in, W: 240cm/94.5in
Established in 2005 by Signe Bindslev Henriksen and Peter Bundgaard Rützou, Space Copenhagen is a design studio working across multiple disciplines from furniture, lighting and refined objects, to art installations, art direction and interior design for private homes, hotels and restaurants all over the world. 
The ambition is to forge new paths by balancing opposites — classic and modern, industrial and organic, sculptural and minimal, light and shade. Duality and contrast. Curiosity as a fundamental human condition. 
The studio's intuitive approach embodies designs that are distinctively shaped by the given circumstances, functional needs, and a fundamental interest in human behavior. It is a sense of and belief in slow aesthetic that centers quality and longevity. 
Space Copenhagen has created lauded furniture pieces for some of the world's leading manufacturers and continuously substantiates their roster of high-end interiors at an international level, following, among others, their award-winning design for 11 Howard hotel in New York and acclaimed destination restaurants Geranium and Noma in Copenhagen.
Inspiration
Hee Welling x HAY Designer talks. In conversation with Hee Welling
Hee Welling x HAY Designer talks. In conversation with Hee Welling
Hee Welling x HAY Designer talks. In conversation with Hee Welling
Hee Welling x HAY Designer talks. In conversation with Hee Welling