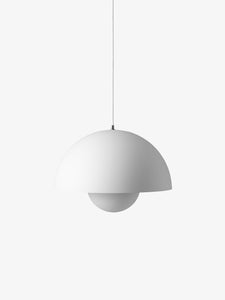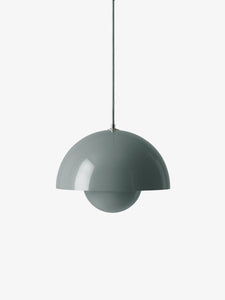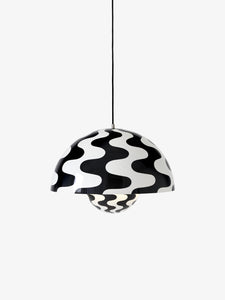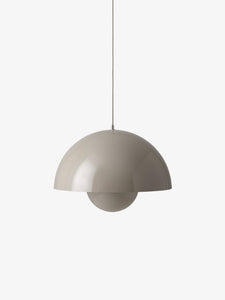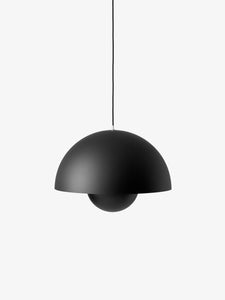 2023 NEW FINISHES > Vermillion Red and Patterned
The Flower Power movement was all about peace, love and harmony, driven by a generation who questioned rigid values in favour of personal freedom. Amidst missions to the moon and alternative lifestyles emerged a fascination with the future. Verner Panton captured the spirit of this era with his Flowerpot lamps. Two semi-circular spheres facing each other became the signature style for a series of lamps that went on to decorate private homes, interiors and exhibitions around the world. In a variety of psychedelic colours, patterns and combinations that became emblematic of the Flower Power movement. Panton was a pioneer in his avant-garde approach to geometric designs, vivid colours and immersive interiors. We're pleased to keep his legacy alive with lamps that honour his vision of the future – in the present.
Dimensions
Ø: 50cm/19.7in, H: 36cm/14.2in
Material
Lacquered metal with 3 meter fabric cord
Verner Panton (1926-1998) is famous for his inspirational and colorful personality. A unique person with a special sense for color, shape, light function and space. Over the course of his career, Panton introduced a series of modern lamps with personalities unlike any of his Scandinavian contemporaries. With remarkable faith in the unlimited possibilities of form, he worked successfully to create a new set of theories about light function and influence on its surroundings.
Verner Panton studied at the Royal Danish Academy of Fine Arts in Copenhagen. After that he went working at Arne Jacobsen's architecural practice. He set up his own design studio in 1955.
Inspiration
Hee Welling x HAY Designer talks. In conversation with Hee Welling
Hee Welling x HAY Designer talks. In conversation with Hee Welling
Hee Welling x HAY Designer talks. In conversation with Hee Welling
Hee Welling x HAY Designer talks. In conversation with Hee Welling