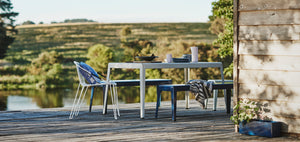 There's something about Good One Stool that makes you want to high five. Starting its life in New Zealand as a humble café stool, Good One has grown to include a complete range of tables, benches and stools. Its versatile, durable design makes it an indispensable addition to home, hospitality and work, both indoors and out. 
310mm x 310mm x 450mm H*
(12.25in. x 12.25in. x 17.75in. H)
*add 70mm/2.75in. for footprint
Made from powder coated aluminium sheet, featuring a unique folded construction and punched-cross design.

Inspiration
Hee Welling x HAY Designer talks. In conversation with Hee Welling
Hee Welling x HAY Designer talks. In conversation with Hee Welling
Hee Welling x HAY Designer talks. In conversation with Hee Welling
Hee Welling x HAY Designer talks. In conversation with Hee Welling