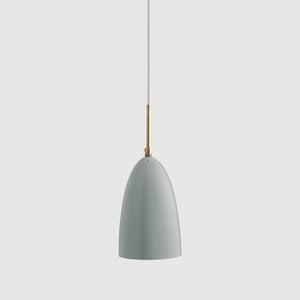 The Gräshoppa Pendant has emerged from Greta M. Grossman's original lamp design from 1947, using the signature steel shade that successfully combines lightness and functionality into a modern yet organic character. The whimsical design language is characteristic for Grossman's pieces and is strongly identified throughout her collection. 

Hanging from the ceiling, the lamp brings a modernistic style and classic elegance to any decor and is perfectly suited over a kitchen counter or paired over a dining table.
Select finishes on 2-3 week shortened lead time. Standard lead time is 18-20 weeks. Contact us for more information. 

Greta Grossman (1906-1999) maintained a prolific forty-year career on two continents: Europe and North America. Her achievements were many and encompassed industrial design, interior design and architecture. In 1933, having successfully completed her fellowship at the renowned Stockholm arts institution, Konstfack, she opened Studio, a combined store and workshop. During the same year Grossman married jazz musician, Billy Grossman with whom she later emigrated to the United States, settling in Los Angeles. Through the 40's and 50's Grossman exhibited her designs at museums worldwide, including MoMA in New York and The National Museum in Stockholm.
Inspiration
Hee Welling x HAY Designer talks. In conversation with Hee Welling
Hee Welling x HAY Designer talks. In conversation with Hee Welling
Hee Welling x HAY Designer talks. In conversation with Hee Welling
Hee Welling x HAY Designer talks. In conversation with Hee Welling