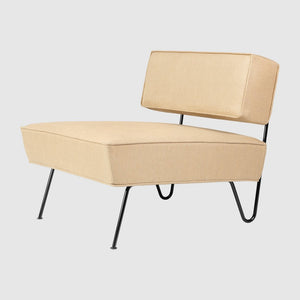 The GT Lounge Chair was designed by Greta M.
Grossman in 1949 and with its sleek and feminine lines,
it beautifully expresses the influence that Scandinavian
design had on her. Designed for comfort as well as
aesthetics, her timeless lounge chair has a feminine and
light silhouette that is supported with elegant slender
legs, which is a true signature for Greta M. Grossman's
designs. The GT Lounge Chair, which she showcased
at her prestigious Los Angeles store on Rodeo Drive
with which she used to decorate many of the homes
she designed, was like most of her furniture custom
built or produced in exceptionally small numbers.
Total Dimensions (DxWxH):
64x70x70 cm
Base/leg thickness:
1,4 cm
Available in a range of fabric and leather upholstery options. Contact us for more information.
Inspiration
Hee Welling x HAY Designer talks. In conversation with Hee Welling
Hee Welling x HAY Designer talks. In conversation with Hee Welling
Hee Welling x HAY Designer talks. In conversation with Hee Welling
Hee Welling x HAY Designer talks. In conversation with Hee Welling