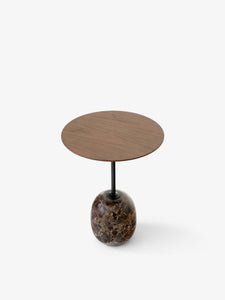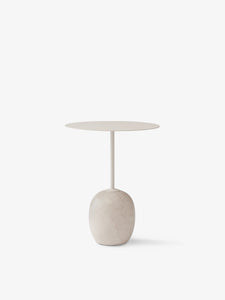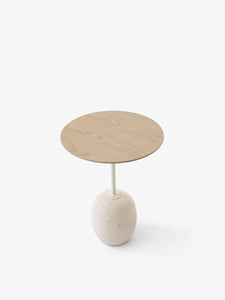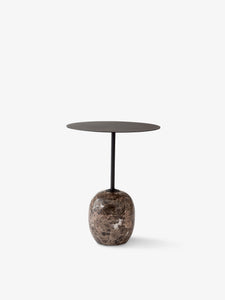 The Lato Table Series is available in a range of variations. Explore the complete collection here.
NEW FINISH > Deep Green & Verde Alpi marble
At first glance, Lato resembles a sculpture, with its slim, oval or round table top balanced by an oval-shaped base. Striking, graphic and poetic, its purity of form is proof that simple is sophisticated. The initial inspiration for Lato started with the idea of a lollipop turned upside down. A classic shape from a candy most people recognise from childhood. But how do you turn a lollipop into a table? "Growing up on an island like Murano, I was surrounded by creativity," explains Nichetto. "Artisans with an immense knowledge and love of materials, who I watched transform abstract concepts into concrete reality. With Lato, I wanted to keep the simplicity and streamline it into a timeless side table in a style that could easily be the centre of attention." Enjoy this stunning example of a sculpture that's a side table – and vice versa.
Select finishes on shortened leadtime. Standard lead time is 19-20 weeks. Contact us for further information.  

Luca Nichetto was born in 1976 in Venice, where he studied at the Art Institute. Afterwards he attended the University Institute of Architecture of Venice (IUAV), where he earned a degree in Industrial Design. He began his professional career in 1999 by designing his first projects in Murano glass for Salviati. That same year he began his collaboration with Foscarini, for whom he not only designed products, but also worked as a consultant on new materials research and product development (2001–2003). In 2006 he launched his own design firm, Nichetto&Partners, which specializes in industrial design and offers its services as a design consultancy. In 2011 he also opened another professional office in Stockholm,Sweden. Over the course of his career, Nichetto has been awarded a number of international prizes, including the Gran Design Award (2008), the Chicago Atheneum Museum of Architecture's Good Design Award (2008), the IF Product Design Award (2008) and the Elle Decoration International Design Awards' (EDIDA) Designer of the Year award in the Young Designer Talent category (2009). Apart from participating in various design exhibitions in Europe, the U.S and Japan, Nichetto has also been the subject of important retrospective shows mounted in prominent European cities, including Venice, London, Paris and Stockholm, and he has served as art director for a number of international design events. In addition, he has been invited to sit on prestigious juries for a variety of design competitions held both in Italy and abroad Today, Nichetto collaborates with a wide variety of Italian and international companies, including Bosa, Casamania, Ceramiche Refin, Emmegi, Established & Sons, Fornasarig, Foscarini, Fratelli Guzzini, Gallotti & Radice, Globo, Italesse, King's, Kristalia, Mabeo, Moroso, Offecct, Ogeborg, Salviati, Skitsch, Skultuna,Tacchini and Venini.
Inspiration
Hee Welling x HAY Designer talks. In conversation with Hee Welling
Hee Welling x HAY Designer talks. In conversation with Hee Welling
Hee Welling x HAY Designer talks. In conversation with Hee Welling
Hee Welling x HAY Designer talks. In conversation with Hee Welling