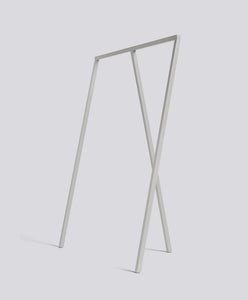 Loop Stand Wardrobe is a larger version of Loop Stand Hall. Based on the same elegant and graphic three-pillared design, it offers a simple and discreet wardrobe solution with increased capacity. Suitable for hanging clothes in a variety of private or public environments.
For more HAY accessories, visit hayshop.com.au.
Leif Jørgensen is a Danish designer and architect based in Copenhagen who founded his first design business in 1989. He works in the fields of interior and exterior architecture, and in product design. He has particular experience with retail design and has created numerous concepts for the fashion industry, along with products, office spaces and private houses. His approach is dictated by a desire to develop original ideas and to push boundaries of traditional product typologies through the application of new techniques and production methods. An inquisitive designer, Jørgensen has a keen interest in how products and concepts are influenced by their cultural and social context. His One Series of upholstery pieces for HAY was a part of the inaugural product collection, he has also designed the Loop Series and the Connect Bed.
Inspiration
Hee Welling x HAY Designer talks. In conversation with Hee Welling
Hee Welling x HAY Designer talks. In conversation with Hee Welling
Hee Welling x HAY Designer talks. In conversation with Hee Welling
Hee Welling x HAY Designer talks. In conversation with Hee Welling