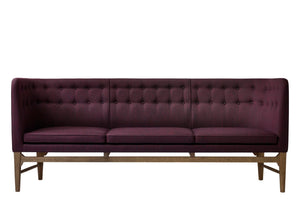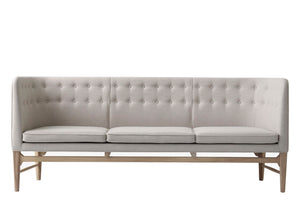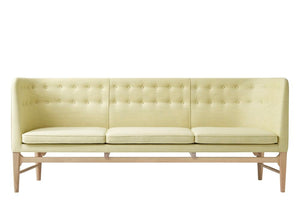 MAYOR shows a moderation of modernism and a unique regional adaptation: the frame is made of solid oak, the upholstery is tight but with three loose cushions that comprise the seating area, and there is generally a more human approach to modernism with a focus on livability. The sofa is made of high quality materials. The tight upholstery and the two rows of elegant buttons that extend over the armrests and back give the sofa a simple and stylish look. Thus the sofa fits perfectly into both modern homes and workplaces, where quality and design are important parameters.
Dimensions
H: 82cm/32.3in, D: 62cm/24.4in, L: 200cm/78.7in. Seating height: 43cm/16.9in
Material
Solid oak or walnut base, internal solid wood frame, elastic belts, CMHR foam, fabric or leather upholstery
Upholstery available in a range of fabric and leather options. Contact us for more information.

Representatives of Danish Modernism and known for their Functionalist approach to design, Arne Jacobsen and Flemming Lassen are considered among Scandinavia's most influential architects. After setting up an office space together in the early 1930s, they conceived the award-winning "House of the Future": a spiral-shaped home replete with a helicopter pad, a conveyor tube for mail and a kitchen stocked with ready-made meals (a rather unheard of concept at the time). They went on to design numerous other projects together and individually, which brought them international acclaim.
In 1929 Jacobsen designed the Bellevue Lamp, a Bauhaus-inspired product that signaled the dawn of Scandinavian minimalism, where graceful lines and a clean silhouette meet sculptural simplicity.
Inspiration
Hee Welling x HAY Designer talks. In conversation with Hee Welling
Hee Welling x HAY Designer talks. In conversation with Hee Welling
Hee Welling x HAY Designer talks. In conversation with Hee Welling
Hee Welling x HAY Designer talks. In conversation with Hee Welling