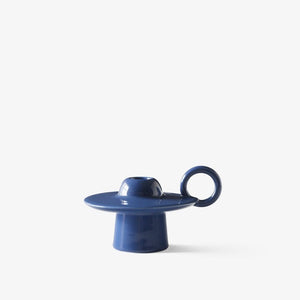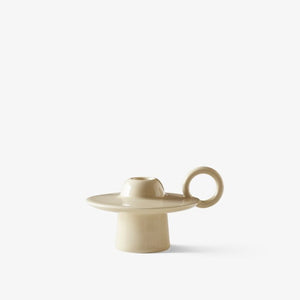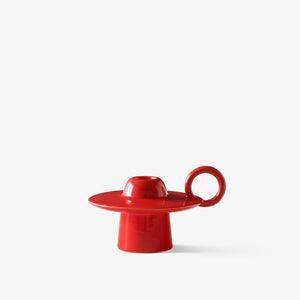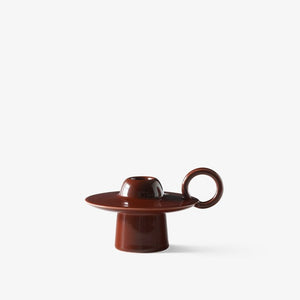 Introducing Momento by Jaime Hayon: A signature collection of objects in celebration of the little joys in life, named after the Spanish word for 'moment' — a playful collection of home décor items designed to encourage us to slow down and savour life's simple pleasures.
The Momento Candleholder pays homage to the classic candleholder form, historically designed to be carried from room to room, melding a nostalgic aesthetic with a contemporary twist. Slip-cast and glazed with precision by artisans in Portugal, the JH39 Candleholder comes in four colours inspired by Hayon's artwork. While Azure and Poppy Red bring vibrant, statement hues, Ivory and Red Brown introduce rich, sophisticated tones to interiors.
Designed to add a pop of colour in both residential and hospitality settings, the four variants fit the common taper candle size and c eate a warm and inviting ambiance when lit.
Spanish artist-designer Jaime Hayón was born in Madrid in 1974. As a teenager, he submerged himself in skateboard culture and graffiti art, the foundation of the detailed, bold-yet-whimsical imagery so imminent in his work today. After studying industrial design in Madrid and Paris he joined Fabrica in 1997, the Benetton-funded design and communication academy, working closely with the legendary image-maker and agitator Oliverio Toscani. In a short time he was promoted from student to head of their Design Department, where he oversaw projects ranging from shop, restaurant and exhibition conception and design to graphics. Eight years later, Jaime broke out on his own, first with collections of designer toys, ceramics and furniture, followed by interior design and installation. These collections put Jaime at the forefront a new wave of creators that blurred the lines between art, decoration and design and a renaissance in finely-crafted, intricate objects within the context of contemporary design culture.

Inspiration
Hee Welling x HAY Designer talks. In conversation with Hee Welling
Hee Welling x HAY Designer talks. In conversation with Hee Welling
Hee Welling x HAY Designer talks. In conversation with Hee Welling
Hee Welling x HAY Designer talks. In conversation with Hee Welling