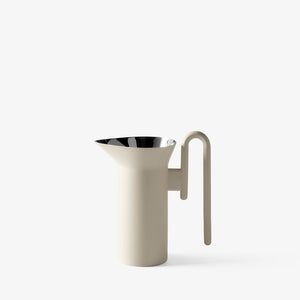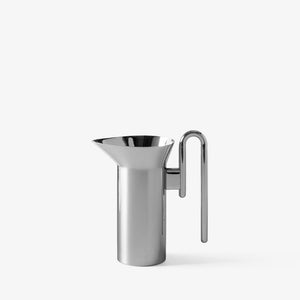 Introducing Momento by Jaime Hayon: A signature collection of objects in celebration of the little joys in life, named after the Spanish word for 'moment' — a playful collection of home décor items designed to encourage us to slow down and savour life's simple pleasures.
The Momento Jug is the culmination of years of product research into creating a no-spill vessel with the perfect pouring form, a beautiful and functional addition for serving water or other beverages to friends and family.
Available in two variants: Polished Stainless Steel, a classic tableware finish tha gently absorbs the light and reflects its suroundings, and lacquered Ivory, a highgloss finish with a polished stainless steel interior for a contempora y look. The Momento jug can hold up to 1L of liquid and the statuesque silhouette lends an air of elegance to the table.
Spanish artist-designer Jaime Hayón was born in Madrid in 1974. As a teenager, he submerged himself in skateboard culture and graffiti art, the foundation of the detailed, bold-yet-whimsical imagery so imminent in his work today. After studying industrial design in Madrid and Paris he joined Fabrica in 1997, the Benetton-funded design and communication academy, working closely with the legendary image-maker and agitator Oliverio Toscani. In a short time he was promoted from student to head of their Design Department, where he oversaw projects ranging from shop, restaurant and exhibition conception and design to graphics. Eight years later, Jaime broke out on his own, first with collections of designer toys, ceramics and furniture, followed by interior design and installation. These collections put Jaime at the forefront a new wave of creators that blurred the lines between art, decoration and design and a renaissance in finely-crafted, intricate objects within the context of contemporary design culture.

Inspiration
Hee Welling x HAY Designer talks. In conversation with Hee Welling
Hee Welling x HAY Designer talks. In conversation with Hee Welling
Hee Welling x HAY Designer talks. In conversation with Hee Welling
Hee Welling x HAY Designer talks. In conversation with Hee Welling