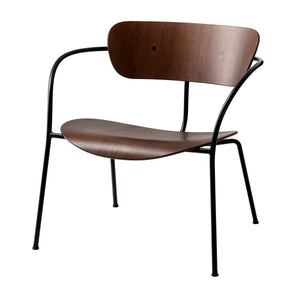 At first glance, the Pavilion lounge chair appears almost like a rope that's come undone. From the curvaceous wood veneer seat and back to the steel tubes that form the armrests and legs, it's a continuous flow of lyrical lines. A lounge chair that's airy from any angle, it's designed to be slightly laid back and with a wider seat than its cousin the Pavilion chair. In doing so, the Pavilion lounge chair is an open invitation to lean back, relax and stay a while.
H: 70cm/27.6in, D: 65cm/25.6in, L: 69cm/27.2in
Seat h: 38cm/15.0in, Seating d: 52cm/20.5in, Armrest h: 59cm/23.2in
Steel tubes and formpressed veneer
Anderssen & Voll are two thirds of the former Norway Says and among the most prominent and successful Norwegian designers. They have formerly been named both Norwegian and Scandinavian designers of the year in Norway and have received international awards and recognition for their work with furniture, lighting and home accessories.

Inspiration
Hee Welling x HAY Designer talks. In conversation with Hee Welling
Hee Welling x HAY Designer talks. In conversation with Hee Welling
Hee Welling x HAY Designer talks. In conversation with Hee Welling
Hee Welling x HAY Designer talks. In conversation with Hee Welling