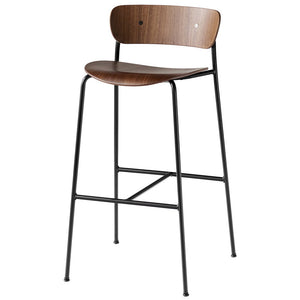 The Pavilion bar & counter chair has an airy feeling, with fluid curves for the wood veneer seat and back which continue as lyrical lines in the steel tubes of the legs. The result is a silhouette that's barely there. Ideal for furnishing an expansive bar or a kitchen counter without appearing crowded, they can easily fill a space without the space appearing full. "Tube chairs had their start in early modernism, but they were usually constructed at fixed angles," notes Anderssen & Voll. "We wanted to explore a more open construction, a freer form of expression."

Select finishes on shortened leadtime, contact us for further information. 

H: 85cm/33.5in, D: 48cm/18.9in, W: 50cm/19.7in,
Seat h: 65cm/25.6in
Steel tubes and formpressed veneer
Anderssen & Voll are two thirds of the former Norway Says and among the most prominent and successful Norwegian designers. They have formerly been named both Norwegian and Scandinavian designers of the year in Norway and have received international awards and recognition for their work with furniture, lighting and home accessories.

Inspiration
Hee Welling x HAY Designer talks. In conversation with Hee Welling
Hee Welling x HAY Designer talks. In conversation with Hee Welling
Hee Welling x HAY Designer talks. In conversation with Hee Welling
Hee Welling x HAY Designer talks. In conversation with Hee Welling