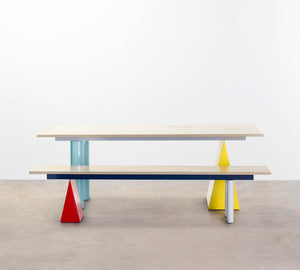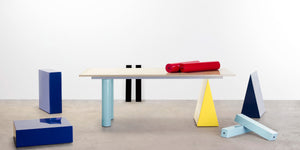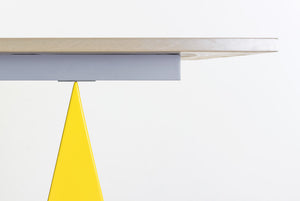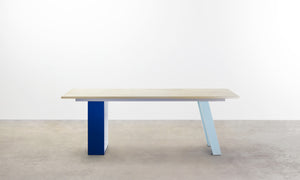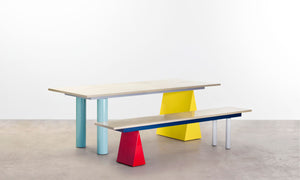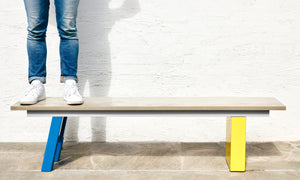 The Pick 'N' Mix table and bench are Daniel and Emma's first explorations into large furniture. Using simple forms they create objects that beautifully merge the durability of outside furniture with a sophisticated look suited to the indoors. Just like the mixed lolly counter of old, you are invited to interact with the furniture and make it your own, as different components can be selected to devise custom looks.
1500 x 370 x 450 H (59in. x 14.5in. x 17.75in. H)
1800 x 370 x 450 H (70.75in. x 14.5in. x 17.75in. H)
2100 x 370 x 450 H (82.75in. x 14.5in. x 17.75in. H)
ou2400 x 370 x 450 H (94.5in. x 14.5in. x 17.75in. H)

Aluminium frame and legs. Carrara marble table top. PE feet.

Established in 2008, Daniel Emma enable's an expression of thoughts through Industrial Design. Daniel Emma's studio works on a large variety of projects, ranging from desk objects to installations. They look to create the unexpected from simple objects using simple forms, drawing influence and insight from the diverse culture that Australia presents us with. Daniel Emma designs aim to be 'just nice'.

Inspiration
Hee Welling x HAY Designer talks. In conversation with Hee Welling
Hee Welling x HAY Designer talks. In conversation with Hee Welling
Hee Welling x HAY Designer talks. In conversation with Hee Welling
Hee Welling x HAY Designer talks. In conversation with Hee Welling