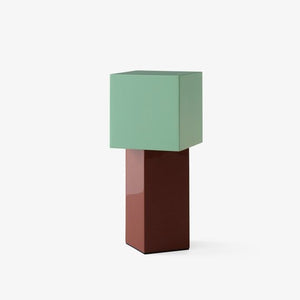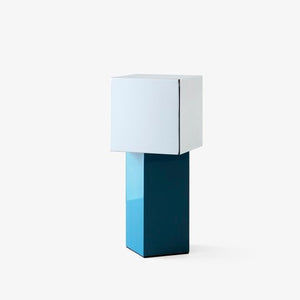 Almost a century after the initial design debate between light and sculpture began, &Tradition release Pivot, a portable lamp that explores the boundaries between form and function.
At the heart of Pivot's design is the interplay between natural and manmade light. The lamp's geometric shade is positioned at a 45-degree angle to the base, creating a soft diffusion that emulates the warm glow of a modern-day candle. The result is a beautiful light that exudes an inviting ambiance, transforming the mood of a milieu at the touch of a button.
Reminiscent of the minimalist art movement, Pivot is crafted from powder coated iron and mirror polished steel and comes available in two colour combinations: Blue Silver and Rusty Mint. While the cool-toned Blue Silver will look at home in most modern homes and professional spaces, the warmer-toned, Rusty Mint colourway is a worthy fit for those in sea ch of a more expressive character.
Established in 2005 by Signe Bindslev Henriksen and Peter Bundgaard Rützou, Space Copenhagen is a design studio working across multiple disciplines from furniture, lighting and refined objects, to art installations, art direction and interior design for private homes, hotels and restaurants all over the world. 
The ambition is to forge new paths by balancing opposites — classic and modern, industrial and organic, sculptural and minimal, light and shade. Duality and contrast. Curiosity as a fundamental human condition. 
The studio's intuitive approach embodies designs that are distinctively shaped by the given circumstances, functional needs, and a fundamental interest in human behavior. It is a sense of and belief in slow aesthetic that centers quality and longevity. 
Space Copenhagen has created lauded furniture pieces for some of the world's leading manufacturers and continuously substantiates their roster of high-end interiors at an international level, following, among others, their award-winning design for 11 Howard hotel in New York and acclaimed destination restaurants Geranium and Noma in Copenhagen.
Inspiration
Hee Welling x HAY Designer talks. In conversation with Hee Welling
Hee Welling x HAY Designer talks. In conversation with Hee Welling
Hee Welling x HAY Designer talks. In conversation with Hee Welling
Hee Welling x HAY Designer talks. In conversation with Hee Welling