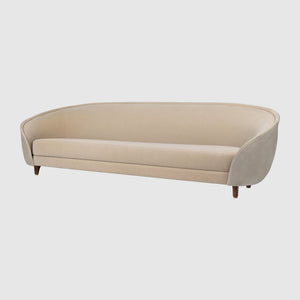 The new Revers Sofa by GUBI is a soft and sinuous interpretation of classic shapes and structures. Taking its name from the silhouette of a revers, the gently curved shell appears like a jacket that embraces you, while the elegantly sweeping edges are reminiscent of the form of the revers. With its clean lines and simple details, yet sturdy and exclusive materials, the Revers Sofa brings forward fresh and different opportunities for use and styling in combination with the entire GUBI collection of modern contemporary classics.
Available sizes (D x W x H):
100 x 215 x 77cm
100 x 280 x 77cm
Available in a range of fabric and leather upholstery options. Contact us for more information.
Inspiration
Hee Welling x HAY Designer talks. In conversation with Hee Welling
Hee Welling x HAY Designer talks. In conversation with Hee Welling
Hee Welling x HAY Designer talks. In conversation with Hee Welling
Hee Welling x HAY Designer talks. In conversation with Hee Welling