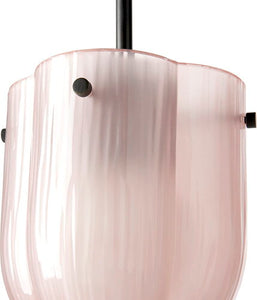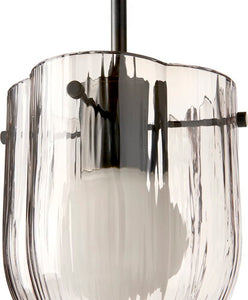 The Seine Lighting Series is available in a range of variations. Explore the complete collection here.
The Seine Collection by Space Copenhagen was inspired by the behavior of light in moving water, an effect that was captured through the use of patterned mouth-blown glass. The collection comprises of a Table Lamp, Ceiling Lamp, and Pendant, each of can be configured with a shade in Smoke, a lightly tinted translucent glass which reveals the in- ner structure of the lamp, or Coral, where the interior of the shade has been sand-blasted to create a clouded effect. Each Seine lamp draws on the power of glass to soften, layer, and blur light, creating a dreamy a reflective ambiance.
The Seine Lighting Series is available in a range of variations. Explore the complete collection here.
Market Compliance: Australia, United Kingdom, Europe Ex. UK
Design: Seine
Product Net Weight Kg: 2.21
Gross Weight Kg: 3.82
Gross Height Meter: 0.275
Gross Length Meter: 0.43
Gross Depth Meter: 0.215
Lightbulb Socket: G9 (Bulb Not Included)
Lumen Watt Recommended: 470 Lumen (~ 4W-6W LED)
Lamp Height: 26,2
Shade Dimension: 16x16x18
Cord Length: 320 Cm
Established in 2005 by Signe Bindslev Henriksen and Peter Bundgaard Rützou, Space Copenhagen is a design studio working across multiple disciplines from furniture, lighting and refined objects, to art installations, art direction and interior design for private homes, hotels and restaurants all over the world. 
The ambition is to forge new paths by balancing opposites — classic and modern, industrial and organic, sculptural and minimal, light and shade. Duality and contrast. Curiosity as a fundamental human condition. 
The studio's intuitive approach embodies designs that are distinctively shaped by the given circumstances, functional needs, and a fundamental interest in human behavior. It is a sense of and belief in slow aesthetic that centers quality and longevity. 
Space Copenhagen has created lauded furniture pieces for some of the world's leading manufacturers and continuously substantiates their roster of high-end interiors at an international level, following, among others, their award-winning design for 11 Howard hotel in New York and acclaimed destination restaurants Geranium and Noma in Copenhagen.
Inspiration
Hee Welling x HAY Designer talks. In conversation with Hee Welling
Hee Welling x HAY Designer talks. In conversation with Hee Welling
Hee Welling x HAY Designer talks. In conversation with Hee Welling
Hee Welling x HAY Designer talks. In conversation with Hee Welling