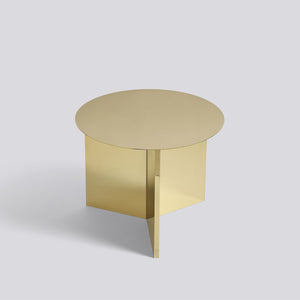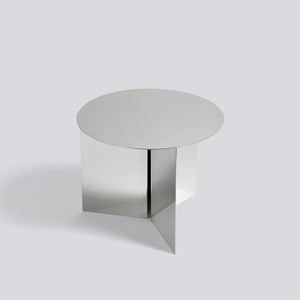 The Slit Table Series is available in a range of variations. Explore the complete collection here.
HAY's Slit Table is a simple metal side table in three shapes: round, rectangular and hexagonal. Slit Table is best described as paper origami translated into a metal universe, named after the slit that emerges when the plate frame is folded underneath the table top. The Slit Table is available in a variety of contemporary colours and finishes in many different combinations. Use them on their own or arrange in pairs or clusters.
Select finishes on 8-10 week lead time. Contact us for additional information.
HAY was founded in 2002 with the ambition to create contemporary furniture with an eye for modern living and sophisticated industrial manufacturing. That remains their key ambition today. Through commitment to the design and production of furniture and accessories with an international appeal, HAY strive to make good design accessible to the largest possible audience. Inspired by the stable structures of architecture and the dynamics of fashion, HAY seek to combine in durable quality products that provide added value for the user. HAY's continued vision is to create straightforward, functional and aesthetic design in cooperation with some of the world's most talented, curious and courageous designers.
For more HAY, visit hayshop.com.au
Inspiration
Hee Welling x HAY Designer talks. In conversation with Hee Welling
Hee Welling x HAY Designer talks. In conversation with Hee Welling
Hee Welling x HAY Designer talks. In conversation with Hee Welling
Hee Welling x HAY Designer talks. In conversation with Hee Welling