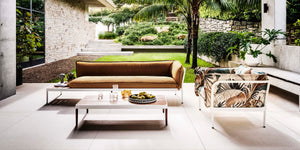 The Trace Armchair is a generous lounge chair showcasing Trace's brave design detail, generous forms and sumptuous upholstery.
1050mm x 870mm x 670mm H (41.25in. x 34.25in. x 26.5in. H)
(380mm/15in. seat height)

Aluminium frame and legs can be selected in a range of UV-stable powder coat colours and textures.Upholstery & Fabrics: A range of premium outdoor fabrics can be specified for Trace's exterior-grade upholstery and cushions.

A firm believer that every environment is defined by the objects within it, Adam Goodrum designs with the philosophy that an object must therefore justify its existence – through its story and detailing. For this reason, his designs celebrate process and craftsmanship, and accentuate components and joinery to create functional pieces with spirit and personality. In recent years, Goodrum's work has been awarded a host of design accolades including the NGV Rigg Prize, Vogue x Alessi Design Prize, Indesign Luminary Award and the Idea Awards Editor's Medal. He has also been commissioned to design pieces for several global luxury brands including Veuve Clicquot, Alessi and Cappellini.
Inspiration
Hee Welling x HAY Designer talks. In conversation with Hee Welling
Hee Welling x HAY Designer talks. In conversation with Hee Welling
Hee Welling x HAY Designer talks. In conversation with Hee Welling
Hee Welling x HAY Designer talks. In conversation with Hee Welling