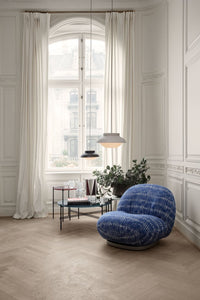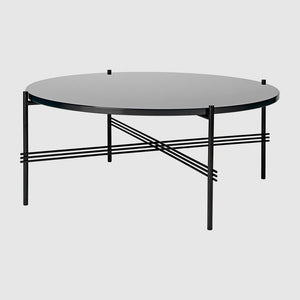 The TS Table Series is available in a range of variations. Explore the complete collection here.
2023 NEW FINISH > Polished Steel Base
The TS Coffee Table creates a sophisticated and sculptural aesthetics for any room with its characteristic slender legs, beautifully crossing details and contrasting solid table top.

Designed by GamFratesi for the renowned restaurant The Standard in Copenhagen, where not only its name got its inspiration but also aesthetics and material choices were found.
Select finishes on shortened 2-3 week lead time. Standard lead time is 18-20 weeks. Contact us for more information.
GamFratesi is a Copenhagen-based design agency comprising architect Stine Gam (born in Denmark in 1975) and industrial designer Enrico Fratesi (born in Italy in 1978), who met while studying architecture in Italy and founded their design agency GamFratesi Studio in Copenhagen in 2006. Using their dual cultural backgrounds, they fuse classic Danish craft traditions with a timeless Italian intellectual and conceptual approach. Their designs are characterised by an honest, natural expression, and the desire to communicate a story through the use of tradition, innovation and functionality. GamFratesi have received international recognition and they have exhibited work all over the world. For Hay, they have designed the Silhouette Sofa and Tulou Table.
Inspiration
Hee Welling x HAY Designer talks. In conversation with Hee Welling
Hee Welling x HAY Designer talks. In conversation with Hee Welling
Hee Welling x HAY Designer talks. In conversation with Hee Welling
Hee Welling x HAY Designer talks. In conversation with Hee Welling