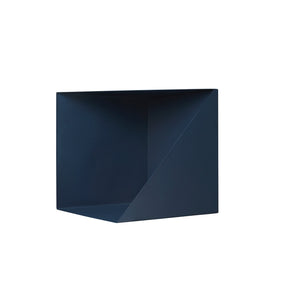 The back plate of the box is removable as it's attached with magnets. Mix and match colors to create a dynamic flow with a setup of wall boxes in different color combinations. And because of the open side of the box, you can, by rotating the Wall BOX, change the light and visual image. Use it for your records or to show off your book collection.
The box is made out of powder coated steel and is available in three different colours: Ash Grey, Ceder Green and Navy Blue.
Ludvig Storm is a Danish designer, trained in graphic design from Design school Kolding. Together with graphical designer Nina Lee Storm, they founded studio 'Lee Storm' in 2000, and later 'Lee Storm design' in 2015.
Ludvig Storm always prefers to have an influence on the room that surrounds him. His works vary from product design, graphic design and decoration assignments, and has a special passion for hands-on craftsmanship. 
He himself explains that he always has a creative urge to simplify any assignment he is given, and his design is highly characterized by this.
Inspiration
Hee Welling x HAY Designer talks. In conversation with Hee Welling
Hee Welling x HAY Designer talks. In conversation with Hee Welling
Hee Welling x HAY Designer talks. In conversation with Hee Welling
Hee Welling x HAY Designer talks. In conversation with Hee Welling