NEWS from 3 Days of Design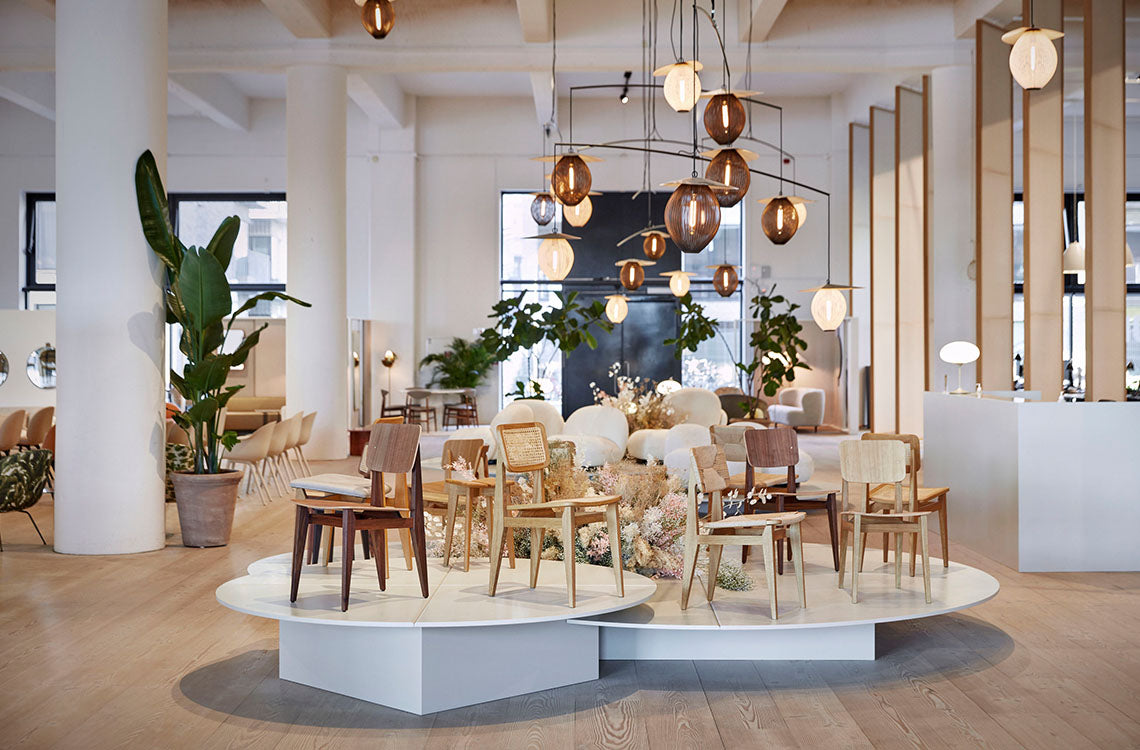 Denmark's annual design event brings together the world's best Danish design brands for a preview of the latest launches in furniture, lighting and lifestyle. Usually an unmissable event in our calendar, this year we experienced 3 Days from afar, spying new designs, re-issued classics and the most beautiful showrooms in Copenhagen. Here we present the latest and greatest from Gubi, and &tradition.
Celebrating 'unconventional living' Gubi presented an array of striking silhouettes and organic expressions inspired by the 1970s. Contemporary novelties from GamFratesi and Space Copenhagen, alongside new pieces from the archives of Marcel Gascoin were presented from their transformed Copenhagen showroom.


Adding to the iconic C-Chair collection by Marcel Gascoin, Gubi revived the original design from 1947 with hand-woven paper cord, and presented a new edition with a veneer seat and backrest.
The S-Table, made from solid and veneered oak or walnut, is characterized by understated and timeless elegance that complements a range of interior styles. Its innovative extending functionality and clean lines soon turned it into a household staple when it was originally designed – the same characteristics that make it ideal for modern homes today. The S-Table comes in an extendable version that can be easily adapted to seat 6, 8, or 10 people, depending on the occasion.
The 1951 B-Table is a contemporary classic designed by Marcel Gascoin based on the popular folding bridge table typology, upon which the famous card game is typically played. This contemporary version is perfect for homework, working on a laptop and dining. The square table can be transformed into a rounded table thanks to an ingenious turning mechanism and magnetic locks, making this the perfect table for the small space living of city-dwellers.
Danish-Italian design duo GamFratesi were inspired by the nineteenth-century English roll-arm sofa when designing Flaneur - known for its undulating profile, taut upholstery, deep seats and low rolled arms. Adding a timeless Scandinavian simplicity to this enduring typology with straighter lines and clearer geometry, Flaneur is a modular sofa that invites complete relaxation in any setting.

Inspired by a contemporary take on the mid-century Scandinavian design tradition, GamFratesi also presented the Sejour Lounge Chair, which has a soft, rounded backrest and welcoming seat. It's elegant design references early 18th-century 'slipper' chairs, once reserved for sitting on while donning shoes or slippers in elegant Victorian boudoirs.
In collaboration with world-renowned designers, &Tradition launched a comprehensive collection of new designs and re-issued classics across furniture, lighting and lifestyle.
Boasting a shell crafted from 100% recycled plastic, Rely is a chair with environmentally-friendly credentials. Designed by Hee Welling, its simple appearance and ergonomic design embodies his signature fusion of minimalism and practicality. The shell is available in a range of contemporary colours and fabrics with a variety of base options.
A new companion to one of our favourite lounge chairs, the Little Petra Pouf is soft and nurturing with rounded legs in either oak or walnut, and upholstery in a wide variety of fabrics.
Named after the Betty Nansen theater in Copenhagen, Thau and Kallio's Betty collection was extended with the addition of an upholstered seat chair and a woven seat bench.
From portable and wall variations of 1950's lighting classics to contemporary accessories from Space Copenhagen, &Tradition have homes and hospitality spaces covered with these versatile new designs across lighting and lifestyle.
Novelties from 3 Days of Design are available to order now*.