The best of Australia meets Japan's crafting traditions with NAU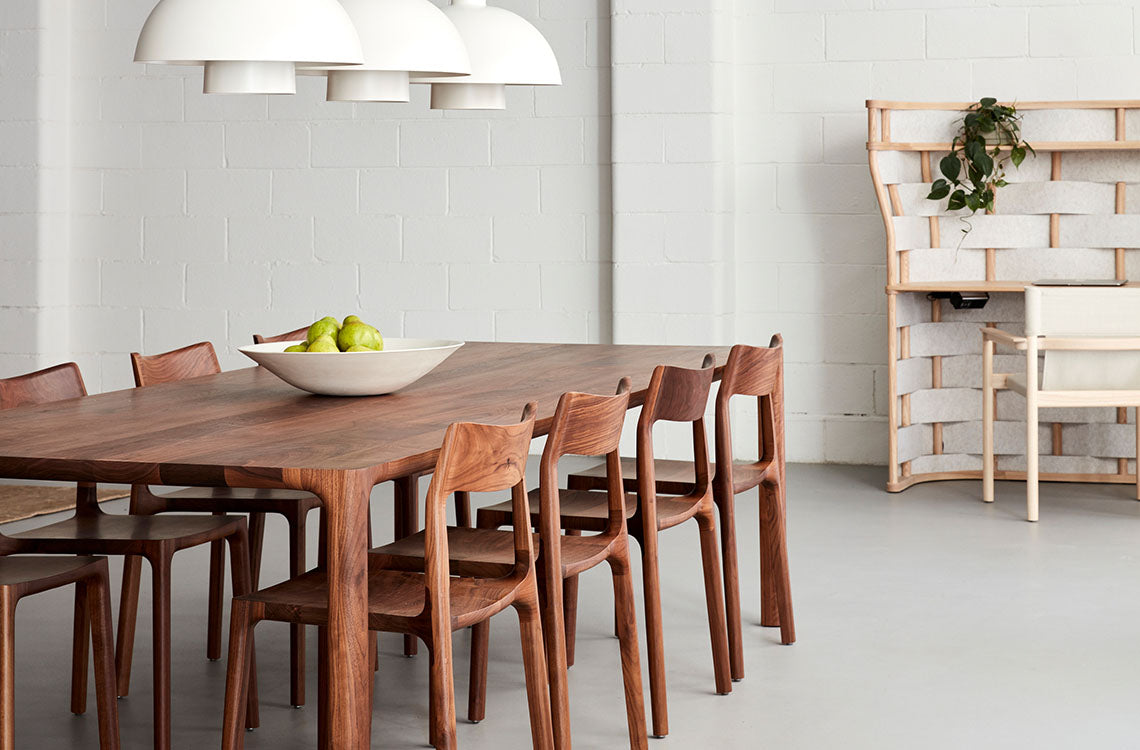 With two decades of experience bringing some of Europe's best brands to Asia and Australia, Cult's NAU takes Japan's crafting traditions to produce timber pieces which are second to none.


Article written by Neal Downward for INDESIGNLIVE SG
As Australia's leading design destination, Cult Design have established a legacy of excellence through their 20 years of business. Across five showrooms in three countries, Cult provides curated selections of premium furniture, lighting and objects that have been sourced from the best makers and designers the world has to offer.

However, Cult is not just an ode to the best of the European makers. Through their own brand, nau, Cult works with leading design and manufacturers to put the spotlight on home grown talent and showcase Australian design right across the globe. Now for the first time, Cult is taking the lessons that they have learnt from nau and are applying it to beautifully crafted timber pieces in Japan. We had the pleasure of hearing directly from Cult on this bold new move.

Why did Cult decide to produce these timber pieces in Japan rather than any of the other furniture-production centres in Asia?

It's the long history of timberwork in Japan, which translates into a deep knowledge of, and respect for, the material, that steered us to Japan. We've seen the products that are made across Asia and the quality of craftsmanship is, in our experience, superior. Even taking warranty as a simple measure – we are able to provide a manufacturers' warranty of 5 years in commercial use, and 10- years in residential, compared to the 1-2 years generally offered by other manufacturers across Asia, which represents not just skill, but confidence in those skills.

Tell us about your manufacturing partner, how you found them, and why you chose them. What is their facility like, where is it located, what are their strengths?

Over the months leading to the partnership, Richard visited the facilities of Hida-Sangyo Co, Ltd in Hida-Takayama 3 times, but it was after the first meeting that he was confident Hida was the right partner. The quality of work being produced, their testing facilities and, again, that deep understanding of material and how it could be used to create our designs.


Japan's crafting traditions are second to none in terms of refinement and quality. Can you tell us about the manufacturing processes used by your partner and why these processes are a good match with Adam Goodrum's designs?

Adam was certainly part of the discussion, personally visiting the production facility on one of the trips with Richard, meeting with their joiners and engineers to discuss and work through prototypes of the most complex timber design in the collection – the Molloy chair.


As with the process here in Australia, a combination of machine and hand-crafting is used, dictated by what is needed for any particular part or component. For example, the back knuckle in the Molloy chair is made in Australia with a 5-axis CNC machine to maintain a certain speed of production while ensuring consistent form on each piece. This machine however is not the only way to craft the joint – Hida produces this component by hand, and it's that know how and ability to mould the timber that makes this possible, and commercially viable.



Are you using the same timbers as you use in Australia? Why or why not?

American Oak, American Walnut, and European Beech are used in both Australia and Japan. The only exception is Natural Ash – it is not offered with the Japanese production, as the timber is not easily sourced in Japan.



Why is the decision to produce in Japan for the Asian market better for your customers in Asia?

Having 20+ years experience in the import of European brands in Australia, we understand the importance of lead times and the speed at which products need arrive to market in order to be competitive. For Australia, that's difficult to avoid because of the physical distance to manufacturing sites globally, but the same can't be said for Asia, or other parts the world. This plays an important part as we expand into new markets.

Another factor is the how important "made in Australia" is to the final consumer. While some countries across Europe and the US have an appetite for Australian design that's made in Australia, in our experience the specific country isn't a top priority for the Asian market. Quality, absolutely, and from a country that is recognised for its timber work, that is balanced with that speed to market.

What's interesting and coincidental in this current climate is that we'll likely see a shift in consumer preference to buying local, in any country. So for NAU in Japan, where there is still a strong demand for natural, timber furniture commonly associated to Scandinavian design, we see potential for designs like the Molloy.